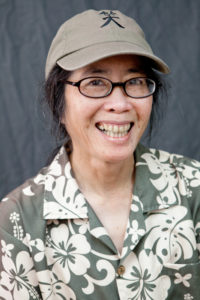 Lenore Chinn has been known primarily for her painting, focusing on portraiture to explore the super-realistic depiction of a wide spectrum of people of color, lesbians and same sex couples. Employing a coded iconography rooted in a lesbian/gay cultural perspective, these images fuse an Asian aesthetic of sparseness and clarity with visual narratives that counteract the "magic-truth rituals" of racial and gender construction.
Her oversized canvases have chronicled many of the populations in which she moves.
Chinn's inclusion in Harmony Hammond's "Lesbian Art in America: A Contemporary History," the first study of American lesbian visual artists, vastly expanded her national visibility. Her portraits documenting the historical evolution of San Francisco's queer community challenge the social conventions that currently constitute the racialized order of things.
She is included in Whitney Chadwick's 5th Edition of "Women, Art and Society" published by Thames & Hudson World of Art, 2012, as well as "Encyclopedia of Asian American Artists" published by Greenwood Press in 2007.
In recent years she has transitioned to using photography to capture images, documenting the cultural landscape from a painter's perspective. Her lens captures the everyday, ordinary people living their lives, and many of the Bay Area's arts communities.
She was a Spotlight Photographer for "A Day in the Life of Asian Pacific America," The Smithsonian Asian Pacific American Center + Flickr, in 2014.
The artist has been a founding member of Lesbians in the Visual Arts and Queer Cultural Center and is affiliated with the Asian American Women Artists Association.

For more information visit:
www.lenorechinn.com
http://lenorechinn.wordpress.com